Designed to Connect
Partner Website: http://www.designedtoconnect.com/
Designed to Connect is a full service web design & internet marketing company. Specializing in Wordpress Websites with capabilities of creating or taking over HTML & PHP websites. If you are looking to retail online, our E-commerce Wordpress websites come equipped with a wide range of available shipping (including a custom built Canpar plugin) and payment options. Your website is one of your primary marketing tools, that is why we work hard to understand your company and reflect your brand image, while target the best keywords (onsite Search Engine Optimization), for your company. With the purchase of every Wordpress website you will receive a series of training videos to get you comfortable editing and making changes to your website.
Template Tuning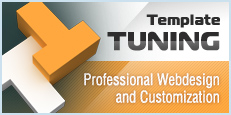 Partner Website: http://www.templatetuning.com/
Template Tuning is a US-based web design and development company, which provides customization services that meet high quality standards!
Just choose a desired website template from more than 40,000 templates of any kind, order customization you want and get a professional high quality website.
Want to become a official Hosterbox partner? Contact us Here!